No 32 Squadron RAF 1918 Pilots' stories
Capt. Packe was posted to 32 Squadron in August 1917 when it was still equipped with DH5 aircraft. He was the first to fly the Squadron's new SE5a's which arrived in late December.

Capt. Packe joined the RFC as an Observer in January 1916. After recovering from wounds on the first day of the Somme (with 15 Sqn) he went on to train as a pilot. In 1917 after basic training at Wyton he went to No 10 TS at Joyce Green & Tern Hill flying Henri Farmans, DH2s, FE8s, Avros, then DH5s.
He joined 32 Sqn in August 1917 and was appointed as a Flight Commander on 10 October. He was the first to fly the Sqn's new SE5a on 29 December. He led the Sqn down to Bellevue on 27 March 1918 during the German Somme offensive. He returned to England at the end of April and was mentioned in despatches for his service during this period. He was awarded the DFC after the war.
A copy of Edward Packe's war diary can be found at this external link.
~
______________________
Capt. Wilfred Barrat Green DFC LdH CdG + palme
B Flight Commander (7 Victories) left the Sqn 8 Sep 1918.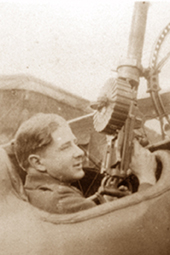 (© Earl Rogers from the collection of Capt. Bogart Rogers RAF)
~
______________________
Capt. Sturley Philip Simpson CdG + palme
A Flight Commander (2 i/c) left the Sqn 19 Aug 1918, later Air Vice-Marshal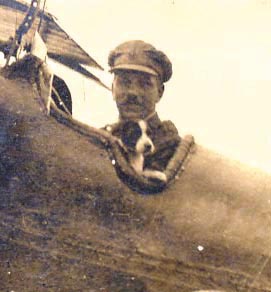 (From the collection of Cpl. William Brown)
~
______________________
Lt. Albert Percy Rapson from Durban, South Africa.
| | |
| --- | --- |
| | Lt. Rapson joined 32 Squadron at the beginning of November 1918 making his first combat patrol on 9 November. His acting Flight Commander was the American Lt. Bogart Rogers who described him and another South African in a letter home. Rogers described the characters in his flight referring to the two newly joined South Africans as "lean, ugly looking men who are both regular persons, good pilots, and very keen about the work". |
In the same letter Rogers described the four patrols conducted on 9 and 10 Nov as "all uneventful, no Huns about altho quite a good bit of archie".
Albert Rapson became an RFC Cadet on 16 May 1917 attending No 2 Officer Cadet Wing Hursley Park, Winchester. He then went on to No 2 School of Military Aeronautics at Oxford. He was appointed Temp 2nd Lt. on 30 August 1917 and sent to Egypt for his flying training to 58 Reserve Sqn at Suez arriving probably in Sep.
While with 58 Res Sqn he experienced a dramatic crash on an Avro trainer which The Pictorial magazine of Durban described as follows: "Lt. Rapson had a most fortunate escape from death last year (1917). While flying a machine his engine broke down when he was at the great height of 6000 feet. He dived down for some 5000 feet before being able to see earth owing to the clouds. Eventually he tried to land his machine in a ploughed field, but the great rate at which the machine was travelling propelled it into a wire fence, and then into some trees. The machine was smashed to splinters, hardly leaving one whole piece of wood, but by some great fortune the young pilot was not even scratched. It was one of the most marvellous escapes on record."
After basic training he went on to No 195 Training Sqn at Abu Sueir (Suez Canal) where he was confirmed in the rank of 2nd Lt. on 14 November 1917. Completing his flying training he went to No 3 School of Military Aeronautics at Heliopolis outside Cairo on the staff. It was around this time that a large intake of South African recruits to the RFC arrived in Egypt for training and instructors for them had to be trained locally. In mid 1918 he was posted back to UK to No 41 Training Depot Squadron at London Colney which was equipped with SE5a's and Snipe's in addition to Avro 504's. By the time he arrived at 32 Sqn he was an experienced pilot though lacking operational experience.