No 32 Squadron RAF 1918 background
32 Squadron RAF claims and losses 1918
IX Brigade RAF Orbat November 1918
Airfields 1918
Bailleul 5 Mar 1918
Belleville Farm 27 Mar 1918
Beauvois 29 Mar 1918
Fouquerolles 3 Jun 1918
Ruisseauville 21 Jun 1918
Touquin 18 Jul 1918
La Bellevue 3 Aug 1918
Pronville 27 Oct 1918
La Brayelle 1 Nov 1918
CO:
Major John C Russell from 11 Sep 1917
Well known pilots:
Capt Walter Alexander "Bing" Tyrrell MC KIA 9 Jun, B Flight Commander (17 Victories)
Capt Alvin Andrew Callender (US) MIA/DOW 30 Oct, C Flight Commander (8 Victories)
Capt Arthur Claydon (Canadian) KIA 8 Jul C Flight Commander (7 Victories)
2/Lt John Owen Donaldson (USAS) DFC DSC CdG (Belg) (US) POW 1 Sep later escaped (7 Victories)
Capt Wilfred Barrat Green DFC LdH CdG + palme, Flight Commander (dep 8 Sep) (7 Victories)
2/Lt Frank Lucien Hale DFC (US) (7 Victories)
Lt George Edgar Bruce Lawson DFC (South Africa) (6 Victories)
Lt Bogart Rogers (US) temp Flight Commander (6 Victories)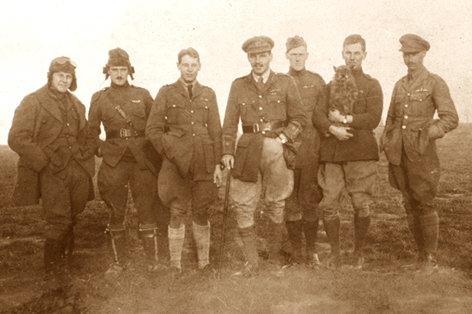 Hale, Reese, Lawson, Maj Russell (CO), Callender, Rogers, McBean
(© Earl Rogers from the collection of Capt. Bogart Rogers RAF)
32 Squadron RAF 1918 Personnel
Further reading:
A Yankee Ace in the RAF. The World War I Letters of Captain Bogart Rogers by Morrow, John H., Jr. and Earl Rogers (editors).
War in an Open Cockpit, The Wartime Letters of Captain Alvin Andrew Callender, R.A.F. by Callender, Gordon W., Jr. and Gordon W. Callender, Sr., (editors).