No 32 Squadron RAF 1918 cont'd
The Squadron settled down to a pattern of escorting bombing formations pilots typically flying one or two patrols a day depending on the weather. Lt. Rogers an american RFC volunteer described the start of a typical patrol with his example a patrol to leave the ground at 4 o'clock:
"About three thirty all the machines are wheeled out and lined up in front of the hangars. .. At a quarter to four the engines are started, twenty, 200 hundred horse power motors just ticking over; twenty shiny propellors glistening in the sun; ... forty exhausts rumbling and belching blue smoke. Then the pilots straggle up and prepare for the journey up above. Preparing consists of putting on light, but very warm fur lined suits ... lined sheepskin boots, fur lined helmets, and polishing up the goggles. They have a little confab, the commander telling them what's to be done, looking over their maps and straightening things out generally. Then they climb into the machines, get nicely strapped in, maps arranged, gloves on, and everything fixed just so. Always before leaving the ground the pilot runs up his motor. Blocks are in front of the wheels, a mechanic at each wing, and one hanging on the tail. The motor is run up slowly at first, then to top speed the machine trembling and straining at the blocks. Everything ready the pilot waves his hand, the blocks are pulled and the flights taxi out to take off one at a time. A couple of turns round the aerodrome to get a close formation and they're away to the line..." (1)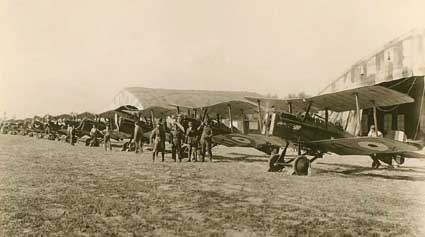 SE5 Squadron line up (Photo Public domain)
During a patrol on 3 May Lt. Tyrrell claimed two Fokker DrI's OOC over Frelinghem and forced down and captured an LVG C near Poperinghe (the event is mentioned in Tyrrell's MC citation).
A patrol on the morning of 8 May met a large formation of Pfalz DIII's and in the ensuing fight over the Arras area, three EA were claimed destroyed by Capt. Claydon and Lt.s Tyrrell and Hendrie with a further three claimed OOC by Capt.s Claydon and Simpson, and Lt. Leese.
On 17 May two pilots disappeared during the morning patrol Lt. Russell and Lt. Cross none of their colleagues noticing them leaving the formation; they were later confirmed as POWs.
The following day, 18 May, Capt. Viscount Glentworth was killed in action having spiralled down out of control from his formation after he and Lt. Hooper engaged two enemy two-seaters over Etaing at 10,000 feet. Hooper reported seeing pieces coming off Glentworth's aircraft. The patrol was some 10 miles over the line. Reports from the ground said that he had managed to regain some control of his aircraft though its engine was dead and headed back to the line eventually landing in a shell hole in no-mans land, just short of the British lines. Unfortunately Glentworth came under directed German fire, he jumped into an old communication trench and ended up moving toward German positions and was killed (1), (2). Lt. Lawson was shot up during this patrol but made it back to British lines and crashed.
A patrol on 21 May ran into a large German formation arranged in an elaborate trap above a decoy two-seater. The patrol was 25 miles over the lines at 18,000 feet and toward the end of the patrol encountered the decoy plus a lower formation of scouts. Part of the patrol engaged the lower formation. However larger formations of EA appeared with perhaps 40 EA in the area. The 32 Sqn patrol withdrew pursued to the lines by 20 EA. (1)
A late afternoon patrol on 28 May had an engagement with a formation of Pfalz DIIIs and Albatri over Armentières resulting in three EA being claimed OOC by Capt.s Claydon and Simpson and Lt. Callender.

Note: EA = enemy aircraft
References:
(1) A Yankee Ace in the RAF. The World War I Letters of Capt.ain Bogart Rogers by Morrow, John H., Jr. and Earl Rogers (editors).
(2) Airfields and Airmen Arras by Mike O'Connor, p.67