No 32 Squadron RAF 1918 cont'd
June - July 1918
Operations with the French
Following a request from General Foch on 29 May for air reinforcements on the French front, anticipating a German offensive, IX Brigade deployed most of its squadrons and the two Wing HQ's to the Beauvais area arriving on 3 June. 32 Sqn aircraft moved, travelling the 70 miles from Beauvois in under an hour; squadron transport took some 15 hours to make the move.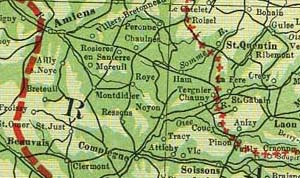 Map of the operational area on the French Front (1)
IX Brigade came under the command of Commandant L Picard, air commander of the French group of reserve armies. 32 Squadron was based at Fouquerolles next to the French 6th Army telephone control.
The squadron conducted two patrols on 5 June and encountered a formation of Albatros scouts. During the ensuing melée Lt. Callender went down in flames but managed in his dive to put the fire out and return unscathed though shaken by the experience. (2)
The German offensive was launched on 9 June (the Battle of Matz) and there was intensive fighting over three days. IX Brigade was employed on low flying attacks on troops. 32 Sqn fired 3400 rounds against troops and transport on 9 June - Lt. Rogers described the 6 am mission as a "road strafe". Capt. Tyrrell MC was killed in action by ground fire and Lt. Graham wounded. Counter attack patrols were carried out on 10 June, 32 Sqn dropped 33 25lb bombs and fired 6300 rounds at ground targets. Lt. Hooper (USAS) was killed in action. While shooting targets in the vicinity of Orvillers Capt. Claydon and Lt. Callender were attacked from above by 17 EA (11 Fokker DVIIs and 6 Abaltri); Lt. Callender drove down 3 EA in the subsequent engagement though none could be confirmed. Other patrols went out to engage and deter enemy reconnaisssance aircraft. On 11 June 5 25 lb bombs were dropped and 725 rounds fired at ground targets. On 12 and 13 June Capt. Claydon claimed 2 EA destroyed (a Fokker DVII and an Albatros DV). Patrols reduced from two a day to one on alternate days. On 18 June the Sqn escorted 30 bombers (probably 49 & 103 Sqns) to their targets (Roye Junction) providing top cover at 16,000 feet, with another escort squadron below at about 13,000 feet. The Squadron was readied to move on 18 June but continued patrols.

32 squadron C Flight line up
(© Earl Rogers from the collection of Capt. Bogart Rogers RAF)
IX Brigade returned to the British front on 21 June and were rejoined there by 25 and 62 Sqns. 32 Sqn transport departed for the British front on 20 June, with the aircraft being flown up the following day to an aerodrome at Ruisseauville (N of Hesdin).
On its return the Brigade conducted a two week experimental bombing campaign against railway targets. This started on 24 June (the day bomber squadrons involved included 49, 98, 103, 107 Sqns all with DH9s). A series of attacks was carried out on railway targets between La Bassée and Ypres, experimenting to see what forms of attack were most effective. The objective was to hinder enemy force concentrations in this sector of the front - railways being essential for large troop movements and supplies. 32 Sqn provided escorts to the bomber squadrons. On 8 July returning from a morning bomber escort 12 EA engaged the formation Lt. MacBean claimed 1 EA destroyed and Lt. Callender claimed a Fokker DVII OOC. Capt. Claydon recently awarded the DFC was killed in action (shot down by Billik of Jasta 52) and Lt. Burry was brought down and taken prisoner.
The major part of IX Brigade (including 32 Sqn) was returned to the French front on 14 July to the Champagne region anticipating a further German offensive which came that night. 32 sqn moved to Touquin flying down in two stages being delayed by rain.
On 15 July two strafing patrols were conducted, Lt. Hall was badly shot up, wounded and then burnt on crash landing. Lt. Gilbert was missing. The following day the Sqn provided two patrols to protect artillery contact patrols and engaged large numbers of EA, Capt. Green claiming one EA OOC. On 18 July the Sqn was again protecting artillery contact patrols when on the second of these it was jumped by 12 Fokkers of Jasta 9; in the ensuing combat, Lt. Anderson, an inexperienced pilot who had lost formation, was killed. 1Lt. Connelly (USAS) was missing from the first patrol and was subsequently confirmed as KIA.
On the 22 July the Sqn was providing escort to bombers again and engaged 12 Fokkers attacking the bombing formation over the objective. Lt. Donaldson (USAS) claimed a Fokker DVII destroyed and Capt. Green and Lt. Rogers each claimed a Fokker DVII OOC over Mont Notre Dame.
On an offensive patrol over Fimes on 25 July the Sqn engaged 7 EA (probably from Jasta 27) part of a larger formation at different heights. Lt. Callender claimed a Fokker DVII destroyed and Capt. Green, Lt. Donaldson, Lt. MacFalane, Lt. Trusler and Lt. MacBean each claimed Fokker DVII's OOC. Lt. Struben was missing after this combat and later confirmed as a POW.
Note: EA = enemy aircraft; USAS = Unites States Air Service

References:
(1) C S Hammond map, courtesy of the University of Texas Libraries, The University of Texas at Austin.
(2) A Yankee Ace in the RAF. The World War I Letters of Capt.ain Bogart Rogers by Morrow, John H., Jr. and Earl Rogers (editors).