No 32 Squadron RAF 1918 cont'd
Return to the British front August 1918
IX Brigade returned to the British front on 4 August in preparation for the next Allied offensive. The Battle of Amiens opened on 8 August.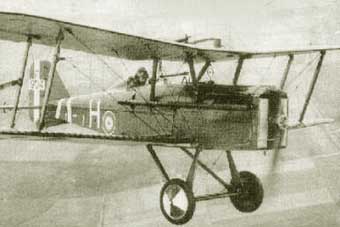 SE5a (Photo public domain)
The Squadron moved to La Bellevue (NE of Doullens), on the 3 August, in preparation for the attack on the Arras front (the Amiens offensive). The Squadron commenced escorting bombing formations to objectives far beyond the lines, the aircraft escorted being DH4s and DH9s of the 9th Brigade, usually 27, 49 or 107 Squadrons. Offensive patrols, however, still took place frequently. The bombing objectives were initially the Somme bridges, reverting gradually from the third day to railway infrastructure. The single seat scout squadrons including 32 Sqn provided close escort and bombing support. On 8 August 32 Sqn armed with 25 lb bombs accompanied 49 Sqn on raids to bomb the bridge at Bethencourt; 12 SE5s and 10 DH9s on the first raid were followed in the afternoon by 11 SE5s and 7 DH9s. On the last of these raids German fighters intercepted the attackers at 1,000 ft. Lt. Donaldson claimed a Fokker DVII destroyed over Licourt.
On 9 August two bombing missions were conducted and the second of these was elaborately organised; 62 Sqn provided an initial line patrol, the bombers from 27 & 49 Sqns (30 aircraft) had a close escort by 73 & 32 Sqns and top cover provided by line patrols of I Brigade (19, 22, 40 & 64 Sqns) the formations totalling 50 fighters in escort and 74 in top cover. All Squadrons flying with all available aircraft. 32 Sqn due to escort 49 Sqn failed to meet up with them but encountered two enemy formations of 8 and 12 aircraft (Jasta 27). Lt. Donaldson destroyed Fokker DVII (DES) over Licourt. 1Lt. Paskill (USAS) was killed in this action and Lt. Reveley was wounded and taken prisoner during the first mission.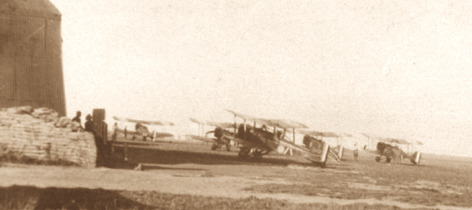 32 squadron A Flight at Bellevue
(© Earl Rogers from the collection of Capt. Bogart Rogers RAF)
On 10 August 32 Sqn formed an escort of 40 fighters with 62 Sqn for 12 bombers of 27 & 49 Sqns on a mission against Péronne railway station. The formation was engaged by Fokkers (? Jasta 52) and 56 Sqn joined in the action. 4 Fokker DVIIs were claimed OOC. Capt.s Green and Flynn and Lt. Callender and Lt. Donaldson making claims. Lt. Macfarlane was killed in action and Lt. Jackson was missing later confirmed as a POW. Similar actions continued over the next few days.
Escorting a raid on 23 August 4 EA came up to meet the bombers before the objective was reached. Capt. Green's flight descended on them and Green destroyed a Fokker DVII East of Douai. The formation was met by further enemy formations on the way back but was not engaged.
On 25 August 32 Sqn with 43 Sqn escorted a bombing force of 27, 49, 98, and 107 Sqns to attack airfields at Etreux and Mont d'Origny; 62 Sqn provided patrols over the target area. This operation was against German bomber units in retaliation for a German night raid that destroyed 48 Sqn's Bristol fighters on the ground at Bertangles. Lt.s Donaldson destroyed a Fokker DVII over Hancourt, the pilot being seen to fall by parachute. Lt. Hale destroyed a Fokker DVII over Hancourt later the same day.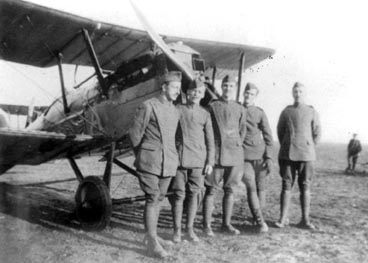 NCOs of A Flight 32 Sqn, L to R: Cpl Brown, Sgt Appleby, Sgt Havindon, Cpl Hersant, Flt Sgt Tronter.
(© Earl Rogers from the collection of Capt. Bogart Rogers RAF)
September - November 1918
On the first day of September 32 Sqn was escorting a long range bombing mission with a strong Westerly wind giving an added advantage to the German defenders. The escort flights were split up on the return journey with the top cover falling behind the bombers and close escort. The bombers were attacked by 7 Fokkers at this point and the close escort (A Flight 32 Sqn) was forced to fight, though low on fuel. A chaotic engagement ensued with the Germans having the better of it. Lt. Tancock claimed one aircraft destroyed and Capt Zinc claimed one of his pursuers OOC. However Lt.s Klingman (USAS) and Donaldson (USAS) failed to return and both were confirmed as POWs the latter after being shot up in a dogfight (possibly bringing down an eighth victim), and Lt. Sandys-Winsch was wounded.
Note: EA = enemy aircraft; USAS = Unites States Air Service